Welcome

This week has been
big
in the Zendesk Community – we did some reorganization and cleanup of topics in the community forums, and published a new
Product Blog
post about improvements to the
Email and Sequence Enhancements in Zendesk Sell.
But we're even more excited about next week, and we hope you are too – November 9th is the next
What's New at Zendesk
webinar, and November 10th will be our very first
Community Day event!
We hope you can check both of these out... but we're super excited to welcome you to Community Day – get all the details below!
Also, we've got user tips and questions below as well.
Did I mention Community Day? :)

Tips from Zendesk Users

Julio, a member of the community, created a

little tool using Google Spreadsheets to create dynamic content items in bulk. This comes in handy especially if you want to have ticket forms available in multiple languages but you don't want to spend a ton of time creating dynamic content items one by one!




Brandon Tidd, a community moderator, shared some advice on how e

nabling

Trigger Categories

can help you keep your Triggers, and your workflows organized!
Solutions wanted: Share your knowledge


Conversations in the Zendesk Community cover everything from basic troubleshooting to complex workflows and specific use cases. Certain questions are best answered by you, the user, because you have on-the-ground experience with our products. Check out the questions below and see if you can offer an answer or provide advice:
Have GA recognize radio button votes
Joanne has set up radio buttons for users to upvote or downvote and they're looking for ways to have Google Analytics track user interactions with these buttons.
Closing Votes on Community Post
Dj would like to remove the ability for users to upvote or downvote community posts and is looking for guidance on how to set this up in the Guide theme.
Public reply, Internal note - is it possible to code/add in a new tab for a particular department?
Casey is trying to add another tab in addition to the 'Public reply' and 'Internal note within Support for agents to review content from another department.


Community Events & Zendesk Announcements
What's New at Zendesk: November 2021 – Americas
We're excited to show you what we've been up to and help you enhance your customer experience. Join us November 9 and choose your own path to success within two tracks— Latest product innovations and CX best practices.
This quarter, learn to deliver personalized support at scale and boost team efficiency with smarter tools, like our new collaboration integrations. We'll also cover updates to Sell to unlock your door to sales success.
Next Community Event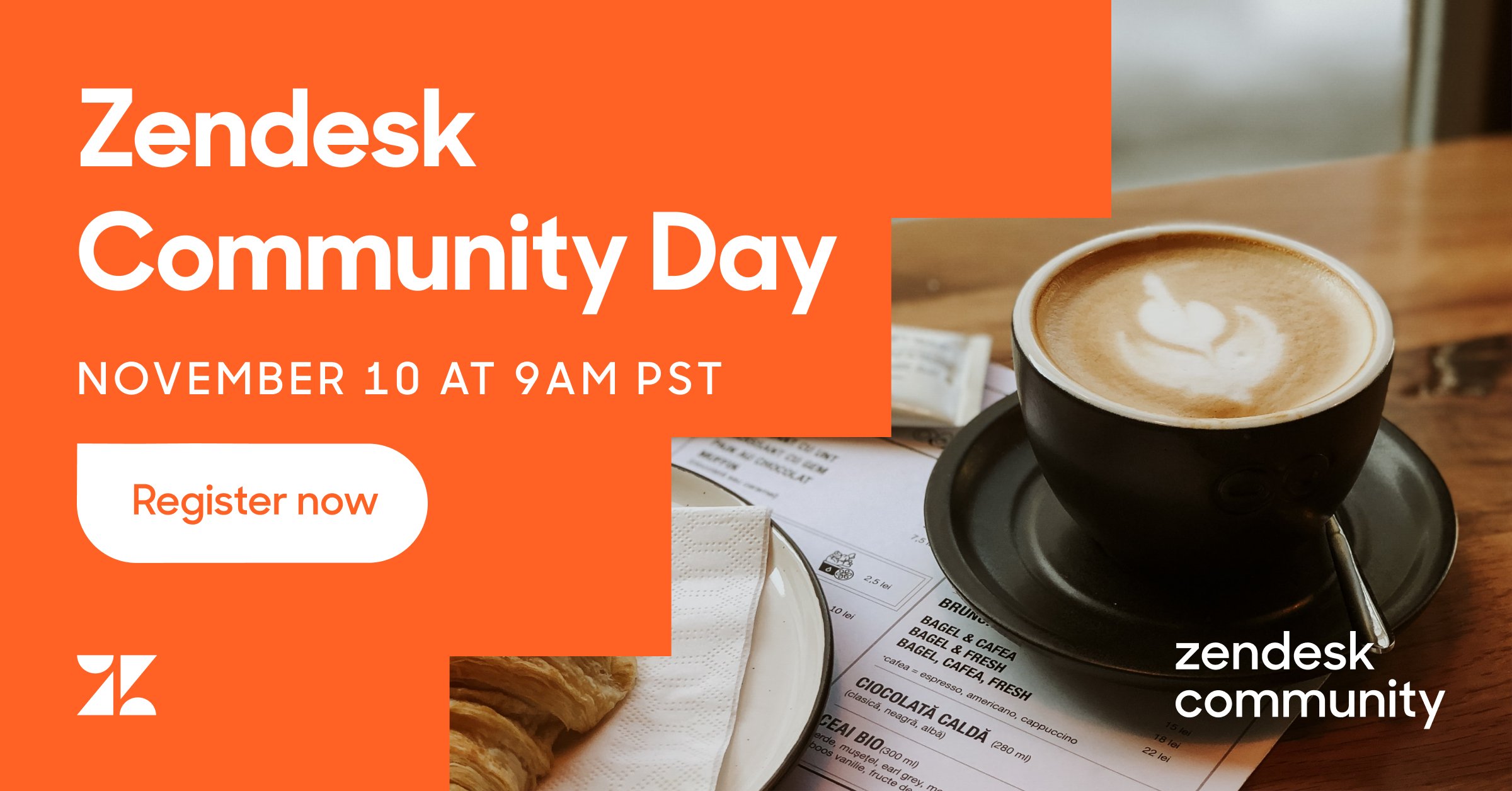 You're invited to our first-ever Zendesk Community Day! Join us on Wednesday, November 10 starting at 9 am PST for a day full of opportunities to meet and connect with other Zendesk users, discussions with product managers, fascinating keynote speakers, and more!

This free event will be a great opportunity to get to know other members of the Zendesk user community, learn how others use Zendesk, and get familiar with all of the resources, events, and opportunities that participating in our community has to offer.

We can't wait to see you there!

RSVP HERE

Once you've RSVP'd, head over to the Community Day introductions thread to start to meet other Zendesk users who will be attending. See you there!
Thanks for stopping by!

If this is your first time checking out our Weekly Digest, posting in the forums, or reading an article in the Help Center, welcome! We're here to help you find solutions to all your Zendesk questions, whether you're setting up your trial account or building an app. Check out the links below to subscribe to future digests and explore what other offerings the Community has waiting for you!