Self Service (1 of 10)
Lesson 4: Helping customers help themselves
If your customers can find solutions to their questions or issues without contacting support, you can cut down on the number of tickets in your support queue. A shorter support queue can help increase customer satisfaction and control costs.
Providing a knowledge base and a community platform are great ways to help customers find solutions to problems on their own. This is referred to as ticket deflection and it's essential for scaling the support you provide to your customers.
Your Zendesk account comes with a customizable support portal called Help Center that provides both a web publishing platform and a community platform. It allows you to deliver your knowledge base on the web and gives your customers a place to interact with other customers.
Don't worry, your customers are not completely on their own when you provide them with a Help Center. In fact, this is another channel you can use to help them. In Help Center, your customers can request support using the request form, initiate a chat session with an agent (if you enable Zendesk Chat), and have a conversation with agents via comments in knowledge base articles.
The Submit a Request form is automatically added to your Help Center. No set up required. 
When you set up a Community in your Help Center, your customers can post questions that can be answered by either your agents or other members of your customer community.
The mobile version of the Help Center
The Copenhagen theme that comes standard with Help Center is a responsive theme, designed for mobile devices. This theme is enabled by default when you set up your Help Center, or you can switch to it if you are currently using a different theme (see Changing the theme of your Help Center).

If you want to use a theme other than Copenhagen for your Help Center, you can enable the mobile layout so that when your customers visit your Help Center using their tablets and smartphones, they'll see a layout that is optimized for these devices (see Using the Help Center mobile layout on devices).
Self Service (3 of 10)
Try it yourself: Creating your Help Center
To get started with your Help Center, you first need to create it. After you create it, the Help Center will be in setup mode and only you and your agents will be able view it. Your end-users won't have access to it until you decide that it's ready to go live and you activate it.
This video demonstrates how to create your Help Center.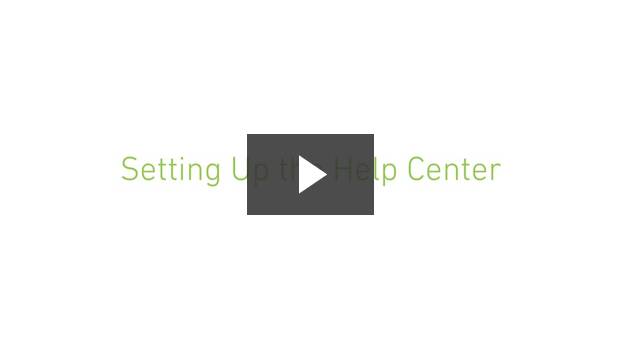 Try it yourself
Follow these steps to create your Help Center:
In Zendesk Support, click the Help Center icon () in the sidebar.
In the dialog box that appears, select the option to set up the Help Center.
Step through the short setup wizard.
You have many options for customizing the look of your Help Center. We've created themes to give our customers several different layouts to choose from. We'll talk more about customization shortly.
Self Service (4 of 10)
Help Center user roles
In an earlier lesson, we mentioned Zendesk Support user roles (end-user, agent, administrator, and account owner). Help Center adds an additional user role called Help Center Manager. By default, all administrators are also Help Center Managers. You can extend this role to agents as well. For example, you may need web designers, writers, editors, community moderators, and production specialists to work on your Help Center. To give them access, add them as Zendesk Support agents and then assign the Help Center Manager role to them.
The Help Center is divided into two main sections: the knowledge base and the community.
All Help Center managers and agents can contribute to the knowledge base. Agents who haven't been assigned to the Help Center Manager role can create and edit articles in the knowledge base but they can't edit articles written by other agents or make any changes to the Help Center.
End-users can't contribute to the knowledge base; the community is where they can post questions and help other customers by providing answers.
Controlling access to your Help Center
You can control who can access your Help Center. Why would you ever restrict access to your Help Center? It depends on who your customers are: a select group or groups of people or everyone. In addition, you can set access restrictions on specific areas of content in your Help Center. For example, restricting part of your knowledge base or community to just VIP customers.
Self Service (5 of 10)
Customizing your Help Center
Extending your brand to your Help Center is an important part of creating a seamless user experience. You have a lot of flexibility to change the look and feel of your Help Center. To keep it simple, you can quickly add your product logo and your brand's colors and web fonts using simple WYSIWYG tools such as color pickers and font choosers.
Underlying the design of the Help Center are themes. These are predefined layouts and you can quickly change the way your content is organized by selecting a different theme.
You can also override how a theme looks by editing the underlying CSS code or add your own JavaScript code to make even more dramatic changes.
An important element of themes are template components. These represent dynamic content elements that can be placed within the page layout. For example, the breadcrumbs component displays a breadcrumb navigation element on a page. You can add, remove, or reorder components in templates.
Chatting with your customers
If you've enabled Zendesk Chat, your customers can initiate a chat session with one of your agents by simply clicking the Chat button.
The conversation between your agent and customer is captured in a ticket.
Self Service (6 of 10)
Try it yourself: Customizing your Help Center
To see how simple it is to customize your Help Center, take a look at this video: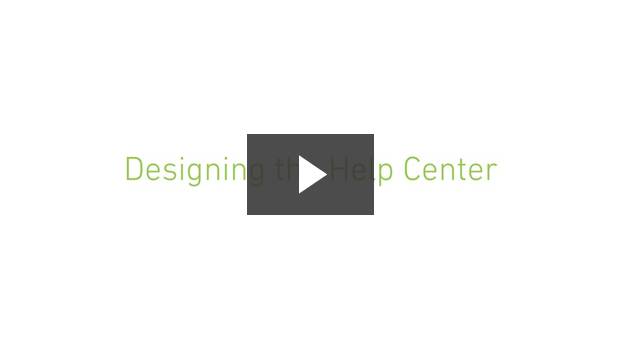 TRY IT YOURSELF
In the Help Center, click General in the top menu bar, then select Customize design.

The Help Center switches to Preview mode.

In the Appearance panel in the sidebar, change the background color of the header by clicking the color picker.

If you know the hexadecimal value of your company's brand color, you can enter it manually in the text box. Example: FFDB9C.

When you make a change, the page refreshes to let you preview it on the page. Changes don't take effect until you click Publish changes at the top of the sidebar.

In the Branding panel, change the name of the Help Center to your organization.

To add a logo, click the Change button and upload an image.
If you're satisfied with your changes, click Publish changes at the top of the sidebar.

If you want to cancel your changes instead, click the Discard Changes link in the sidebar.

Click Close to leave Preview mode.
Self Service (7 of 10)
Building your knowledge base in one or many languages
The knowledge base is where users look for the official content from your organization. Use it to provide FAQs, tutorials, how-to articles, processes and procedures, and reference documentation.
Starting a knowledge base from scratch can be a daunting task. You can start small with a few articles and build from there. A best practice is to focus on creating content to answer your customers most common questions, issues, and pain points.
If you support multiple languages and have knowledge base content in all those languages, you add it all into your Help Center. No need to create separate Help Centers for each language.
When customers visit your Help Center, their web browser language preference is detected and the appropriate language content is displayed. Each customer can also choose their Help Center language preference using the language selector.
If a customer's language isn't supported in your Help Center, they'll see the default language content. For example, if your default language is English they'll see English content.
Draft articles
You can add draft articles in the Help Center by clicking the draft option at the top of any new article. The drafts are saved but not published. You can work on them until you're ready to publish them. To view all the draft articles in progress, click Articles in the top menu bar, then select Manage articles, and click Draft articles in the left sidebar.
Self Service (8 of 10)
Building a community (Professional and Enterprise)
On Professional and Enterprise, the Help Center includes a community platform that lets end-users help other end-users and share ideas and tips. The community consists of posts associated with different discussion topics. A post might be anything, including questions, tips, or feature requests. 
End-users can vote on other end-users' contributions and track issues by following discussion topics or specific questions. They'll be notified when somebody creates or updates a post or adds a response.
Help Center Managers can edit posts, add them to other topics, or delete them. Agents don't have the permissions to make these changes.
Discussion topics
Community posts are associated with discussion topics. Help Center managers can add, edit, or delete topics. Agents don't have the permissions to make these changes.
Topics can be anything you want. If you support multiple products, you might add a topic for each product. If you have one product with a lot of functionality, you might add a topic for each major feature area or task. You can also add a General Discussion topic where users can gather to discuss issues that don't quite fit in the other topics. You can monitor this topic for emerging issues that might deserve their own topics.
Self Service (9 of 10)
Try it yourself: Add a post to your community
Let's say you want to run an idea past your users. Here's a video that explains how to post an idea in your community so that you can get feedback from your customers.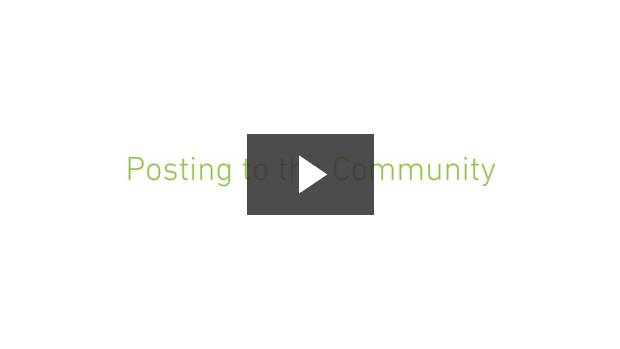 TRY IT YOURSELF
Click New post in the top-right side of any community page.
Enter your idea and any details about it.
Select a community topic for the idea from the drop-down menu.
Click Submit.
Self Service (10 of 10)
Managing your Help Center
After you've set up your Help Center, added knowledge base content, and established your community topics, you will need to activate it to make it live for all your customers. That's when phase two starts: managing your Help Center.
It's important that your Help Center is a hub of activity and this means that when a customer asks a question that they get a timely response. If customers don't feel like their comments are being answered, they will either not come back to your Help Center or they'll file a ticket, which defeats the purpose of providing a Help Center to deflect tickets.
It's best to assign one or more agents to monitor your Help Center and provide answers to your customers questions. This keeps your Help Center active and encourages customers to participate and return. As you build up a community of users you'll find that they'll begin to help each other and that your agents won't have to answer every question. Keep in mind that every question asked and answered is enriching your knowledge base and subsequent visitors to your Help Center may not need to ask any questions at all.
It's also good to draw some attention to your Help Center so that your customers know that's a resource available to them. Here are a few things you can do:
Promote your Help Center. Make sure your customers know about your new Help Center. Send out an email, announce it on your website or on social media networks. Add the link prominently on pages on your website, in emails, and in the product user interface if applicable.
Optimize search. A lot of users rely on Google or other search engines to find answers. Make sure their search results include content in your knowledge base or community. Over time search engines will index the content in your Help Center. However, you can optimize your content so that it ranks higher in the search results.
Link to KB articles in your macros
One of the most effective ways to leverage your Help Center is to include links to it in your replies to customer requests. For example, a request about resetting a password is best handled by a macro that includes a link to the Help Center article that explains how to do that.